Transport facilities in Bordeaux are constantly evolving: the international airport has the fastest growth in traffic in France, the high-speed train now connects Bordeaux to Paris in 2 hours, and a tram line is planned that will connect the airport directly to the city centre in September 2022. 
BORDEAUX INTERNATIONAL AIRPORT
3 terminals (A, B, and Billi for low-cost flights), more than 100 destinations by direct flight with 33 airlines and more than 7 million passengers per year - the fastest-growing French airport. 150 regular national and international flights, more than 60 low-cost flights and access to 13 international hubs: Barcelona, Berlin, Frankfurt, Istanbul, Lisbon, London, Rome, Brussels... Get fare and schedules.
A vast investment programme of €140 million to modernise the infrastructure and improve quality of service by 2023. The airport is connected to the city centre by a regular shuttle service. 
How to get to the city center from the airport?
The 30'Direct offers a direct 30-minute service between Bordeaux Airport (Hall B) and Saint-Jean train station. Consult timetable and buy tickets  
The Lianes 1+ bus line provides a fast connection between Saint-Jean station, the city center and Bordeaux Airport (Hall B), with a bus each 8 to 10 minutes. Tickets can be bought in the 3 press outlets Relay of the airport, directly to the driver or at the distributors next to the bus stop. Consult the map of the line
12km separate the airport from the city center. Contact taxi companies
SAINT JEAN TRAIN STATION
High-speed trains to Paris (currently 2 hours), Roissy Charles de Gaulle airport, and Brussels. Over 11 million passengers/year. Get fares and schedules
A DENSE NETWORK OF SOFT TRANSPORTS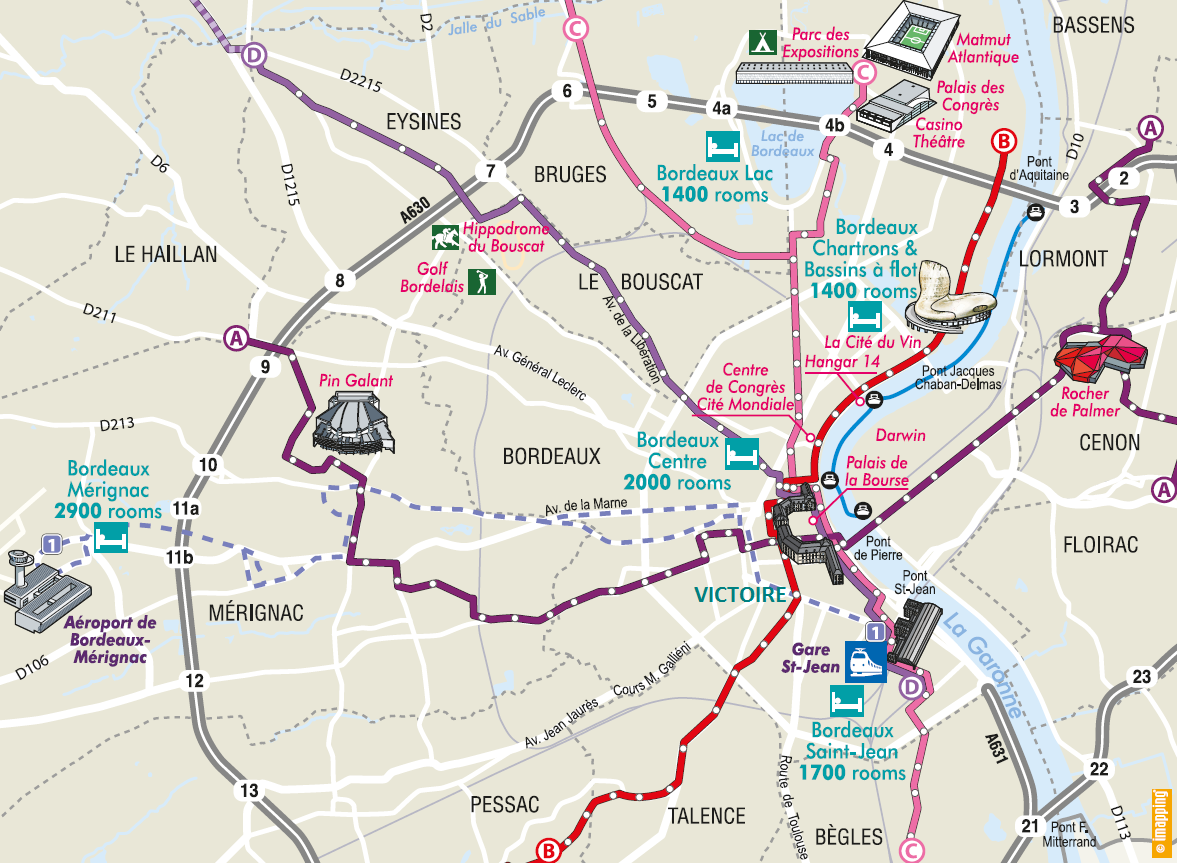 4 tram lines connect the main centers of interest and accommodation in the city between 5am and midnight (or 1am depending on the day). It uses a ground-based power system, unique in the world, to preserve the historic center of the city.
80 bus lines serve the entire city. 100% electric buses are in test phase.
2 river shuttles (BatCub) connecting 5 piers along the Garonne. Designed and manufactured by local companies, in the shape of a catamaran, these hybrid river shuttles allow you to go from one bank to another for the cost of a public transport ticket.
The city is perfectly equipped for cyclists with 1,125km of cycle lanes. 179 V3 self-service bicycle stations are available in Bordeaux and its surroundings, with more than 2,000 bicycles, half of which are electric. Always close from a bus stop, tram or train station, the V3 stations offer a perfect interconnection. Bordeaux Tourist Office is labelled "Accueil vélo" since 2015.
Eco-friendly practices also include the promotion of personal electric vehicles, their rental or charging with 14 fast and free charging stations. Electric cars called "Bluecub" are available for renting (self-service electric car system, 24/24 and 7/7).